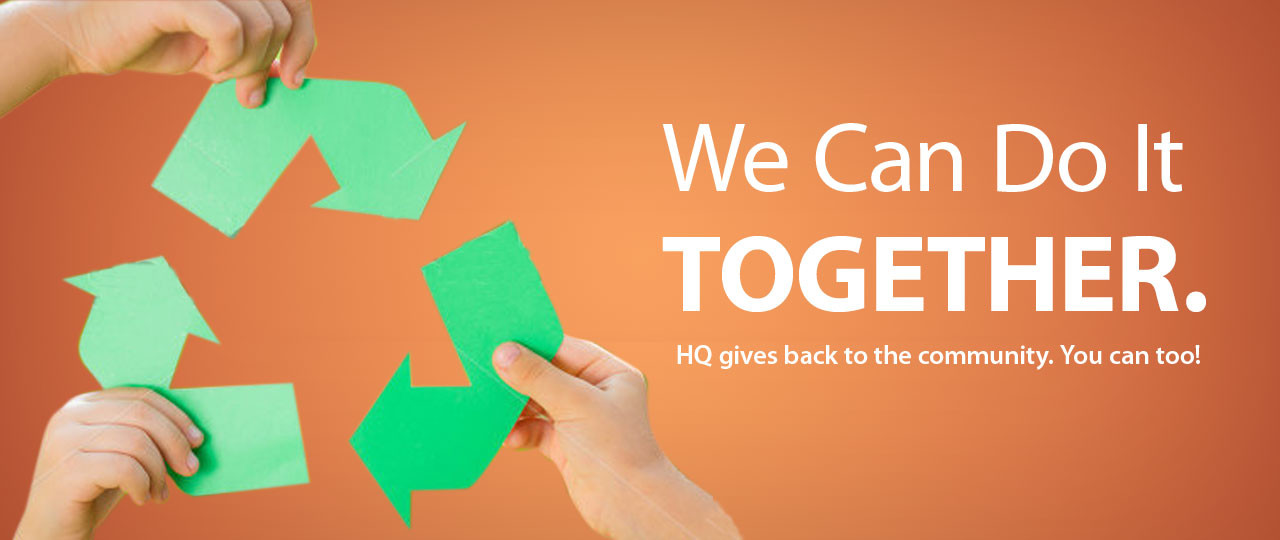 Community
HQ Dumpsters & Recycling, a family owned and operated company based in Southington, CT, makes an ongoing and decisive effort to support the communities it serves and to be a conscientious steward of environmental responsibility. This is both in response to the tremendous support we have received from our residential and commercial customers over the years, and also because our own social values and corporate code of conduct simply demand it of each and every employee. We wouldn't have it any other way.
Going Green!
When we started offering weekly recycling service, our total percentage of recycled goods went from 15% to 28% on the average per household. That's a huge increase! And our customers have the power to do more. We encourage them to pay attention to what they're throwing away and to consider what's entering the waste stream. Have a question on what can and cannot be recycled? Call our office anytime and we'll be happy to help!
HQ Dumpsters & Recycling Community Recycling Program!
We are proud to be able to help educate local community organizations on the importance of recycling and waste reduction strategies. Our team can come in and give presentations to any local group. We present a fun, interactive discussion aimed to help educate the public on the importance of changing recycling habits. Contact our office for more information.
Giving Back!
There are many events, programs, clubs, organizations and activities with which HQ Dumpsters & Recycling has been involved and will continue to be involved in the years ahead. We invite all our customers, friends and associates to join us in our efforts, some of which are listed below.
"We are very proud of our history, our heritage, our customers, and our community. We're also  very concerned about keeping our Earth green. So it's easy to see why HQ Dumpsters & Recycling stays as involved as we do in many neighborhood and regional events and activities. We think we can help make a positive difference. And we'll continue to try."
-Holyst and Perry Family, Owners,  HQ Dumpsters & Recycing
Contact Us for more information about what we do, where we do it, our competitive pricing, current offers and more. You can also visit our FAQ page where many of your collection and recycling questions will be answered.