Residential Trash and Recycling Pick Up
HQ Dumpsters and Recycling is a full service refuse and recycling company that offers curbside trash and recycling service to residents of Southington, Meriden, Middletown and Wallingford. Contact us for more information about what we do, pricing, current offers and more.
We offer two different size trash & recycling carts – 68 and 96 gallons. All residential customers receive two carts of their choice:
one for household trash
(dark green and labeled Trash Only on top)
one for single stream recycling
(blue and labeled Recyclables Only on top).
We also offer bulk pickups for items too large to be placed in the carts. Call us for details.
---
Holiday Calendar
Download our 2023 Holiday Calendar Click Here
Our Services include:
Online Bill Pay, Text, Email, or Phone Reminders, HQ Recycles IT
Weekly Recycling
Residential trash & recycling pickup
Free Credit/Debit Card Autopay
Additional Services include:
10-30-yard roll-off containers
Bulk pickups
Here are some residential trash and recycling guidelines, and you can also visit our FAQ page where some additional questions will be answered.
Residential Trash & Recycling Guidelines
Put all trash and recycling carts out the night before, at least 3 feet from other carts or any other objects.
Make sure all garbage is put in tied bags. This will prevent loose trash from falling onto the ground when we empty the contents of the carts into our vehicles.
Hazardous materials, construction materials, yard waste, paint, furniture and bulky items are NOT PERMITTED in trash carts. To dispose of these items please call for a bulk item pickup or for information on renting a dumpster.
Please note that HQ Dumpsters & Recycling does not handle the disposal of hazardous materials of any kind.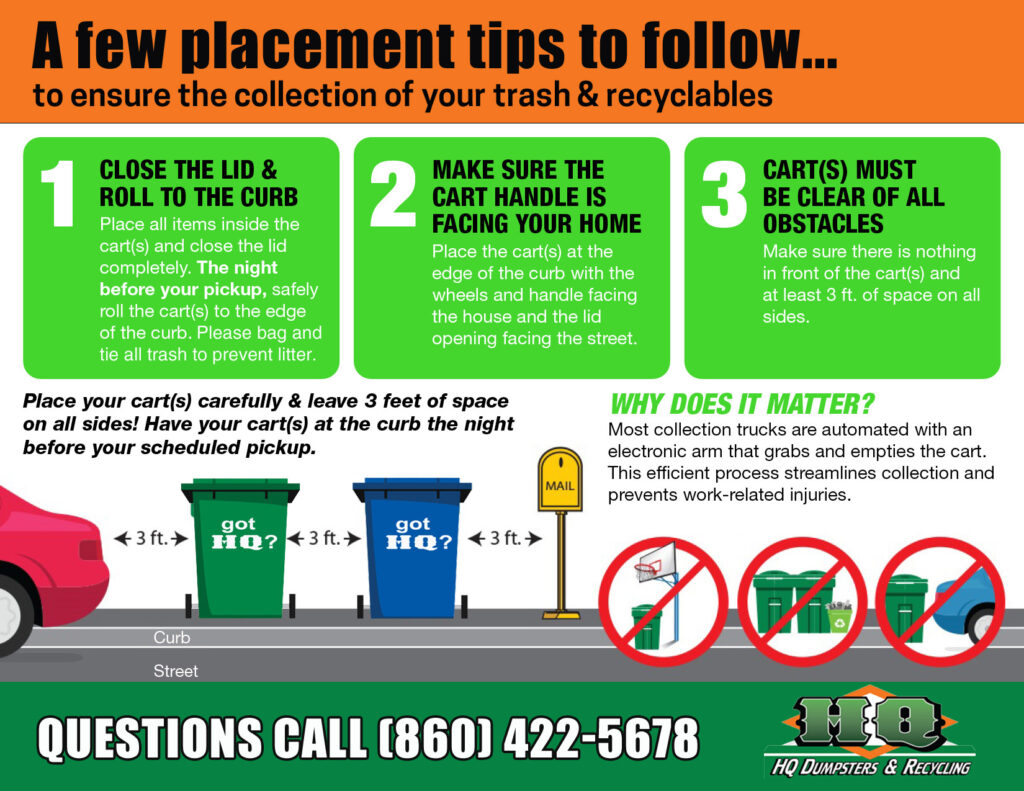 See more  Trash & Recycling Guidelines
Free instructions to make your own composting bin
---
Residential Tote Liners
HQ offers liners for your residential trash can. Our liners fill the entire tote and protect the inside from leaky bags and unpleasant smells. The liners are dumped every week with your trash, so you'll always have a clean tote!
Each box comes with a year supply for $48.50 and can be purchased at our office. Visit us at 897 South Main Street, Plantsville.