HQ Dumpsters and Recycling is a full service refuse and recycling company that offers curbside trash and recycling service to residents of Southington, Meriden, Middletown and Wallingford.
HQ Does commercial trash and recycling removal too! Lower fuel surcharges for any HQ commercial accounts. There is no job too big or small for us to handle. Our containers go up to 30 cubic yards.
We also have Bulk Item Pickups available.
HQ offers 10-30 cubic yard dumpsters. Whether it's spring cleaning, remodeling, demolition, or construction, let us take care of the trash. We can personalize your rental to best suit your needs.
Welcome to HQ Dumpsters & Recycling
Aren't you busy enough creating trash and collecting debris? Do you really want to have to haul it all away too?
Leave it to HQ Dumpsters & Recycling.
HQ Dumpsters & Recycling, one of Central Connecticut's most skilled and reliable refuse and debris management firms, can take care of it all for you! Whether it's weekly Residential Trash Collection or Commercial Trash removal and recycling, or any other small to large clean-up and bulk item collection, we are here to take the hassle and the mess completely off your hands.
Our firm is committed to responsible waste removal, with an emphasis on sustainable, economic practices that allow the land and marine habitats of our planet to thrive. We help eliminate wasteful buildup of recyclable resources, and work toward community-based systems that empower us to live in harmony with the local environment. We're a family-owned company that is proud of its history, heritage, community – and its long list of loyal customers.
HQ Dumpsters & Recycling is committed to protecting the environment! We are the only local company to provide WEEKLY RECYCLING! Additionally, we are the only business in our service area to provide text Pick Up Reminders.
You can also learn how to properly dispose of trash and recyclables by visiting HQ Recycles IT.
HQ Dumpsters & Recycling is a full service refuse and recycling company located in Plantsville, Connecticut. We are locally owned and operated with a commitment to serving our community and protecting our planet. We specialize in refuse disposal and recycling services.
We provide weekly residential trash and recyclable pick up in communities around central Connecticut. We also have 2-10 yard containers that are ideal for large spring and fall yard and home cleanups. We are also proud to offer residential cart washing and new tote liners that can help eliminate the smells!!
Our front load containers come in sizes ranging from 2 to 10 cubic yards, and they are typically used by commercial businesses for trash and recycling services.
For larger jobs, our roll off containers range from 10-40 cubic yard containers that are used for a variety of things such as construction or demolition projects, household cleanouts, remodeling, as well as trash and recycling services.
We offer daily, weekly, biweekly, monthly and on call services on all front load containers, compactors, and roll off containers.
Commercial and Municipal Pick Up in Connecticut:
Southington, Farmington, Cheshire, Bristol, Durham, Middletown, Glastonbury, Wolcott, Berlin, New Britain, Plainville, Wallingford, Hamden, Meriden, North Haven, Cromwell, Rocky Hill, Newington, Wethersfield, Hartford, East Hartford, Watertown, Waterbury.
Residential Pick Up in Connecticut:
Southington, Meriden, Middletown, and Wallingford
HQ Dumpsters and Recycling will provide roll off containers for any town in Connecticut.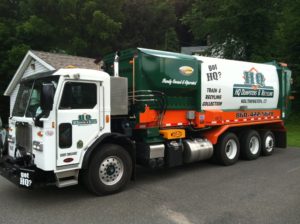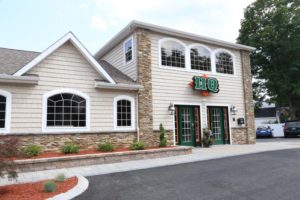 Fantastic company to work with. Always kind, polite, Easter to work with, fair pricing. I'm sorry to be moving to a place they don't service. If you need a company that is truly service and client focused you found it here.
Wow- who would have thought a recycling company could be so personable! I recently signed up for residential barrels and made a few trips to the Transfer station, and Ralph and Jack and their team were super helpful and had a great attitude. Not to mention how involved and helpful they are through the community!